Feature Video: Wine Safari 2018
What happens when you mix beautiful animals from Conservation Ambassadors' Zoo to You program with the scenic and friendly Paso Robles 46 West Wineries, add some wine tasting, and bunch of fun, like-minded people from the Central Coast?
The Wine Safari, that's what!
Over the weekend of March 3-4, 16 participating wineries host an animal ambassador from Conservation Ambassadors and pour three wines for those who have purchased a Wine Safari Passport. Many enjoy the event just to meet the animals.
This unique event brings together animals, humans, and winemakers in a family friendly, community-focused event that benefits Conservation Ambassadors' Zoo to You and its mission to care for wild and exotic animals.
Giving a worldwide voice to wildlife by providing a permanent, loving home for displaced, abused, abandoned or permanently injured wild and exotic animals. Sharing these animal ambassadors through our Zoo to You outreach program helps educate school children and learners of all ages about conservation, connecting them to the wild world and inspiring them to protect the planet.
— Conservation Ambassadors
Come along on this adventure and see what happens as Wine Safari participants have fun supporting this great organization.
The Safari Begins
On an African safari, you don't know what animals you might see, or where they might be. This year, the Wine Safari organizers kept that fun and unexpected element of surprise.
"This year, we chose not to share ahead of time which animals would be at which winery," said Lanie Angeles, COO of Conservation Ambassadors. "Our animal ambassadors' health and well-being is our main priority, and we want to be sure every ambassador is feeling well and up to the task of meeting so many people over the weekend."
With our Great Flavors interactive map (read about that in the pre-event article in the related links box below) in our  loaded on our phones, Andrew, Mina (our official Great Flavors animal whisperer), and I head to Paso Robles on Saturday morning.
Our goals: 1) to visit as many animals as possible during the two-day event, and 2) to meet the people who make this event such a heart-warming success.
We decide to start on the east edge of the 46 West Winery Association participating members, and work our way toward the sea.
Will we accomplish our mission?
SATURDAY
Doce Robles Winery / African Porcupine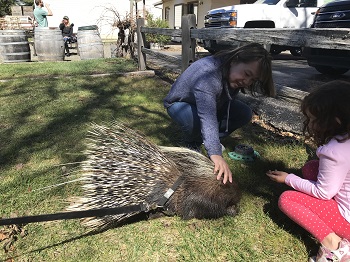 The rain that threatened to dampen the 2018 Wine Safari moved on, leaving bright skies, puffy clouds, and a refreshing breeze to greet attendees, animal ambassadors, and their human handlers from Conservation Ambassadors.
Things are hopping at Doce Robles Winery. The bright, sunny tasting room is filled with people enjoying the wines made by Jimmy Jacobsen. Katie welcomes us with a big smile and stamps our Wine Safari passports to mark our first visit.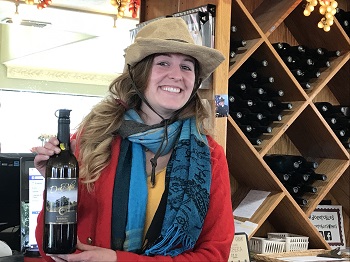 Outside on the grass, Morocco the African Porcupine is fielding pets and questions from his fans.
"You'll notice that the African Porcupine has quills that are much larger and not barbed, which is different than the quills on the smaller North American Porcupine," explains David with Conservation Ambassadors.
Morocco is hunting and munching on acorns, and he patiently allows us to stroke his surprisingly soft, long Mohawk of fescue-type hair/quills.
David also shares a surprise: the porcupine is a member of the rodent family, as is the beaver. Who knew?
Back inside the tasting room, Katie pours our choice of three wines from their list. Another surprise: their 2012 Estate Malbec is from very young vines (just two years old) and has tastes of black fruits combined with nice smoke and leather aromas. The JimmyMon Red has a bright, tart cherry aroma and taste, and is a fun blend of five varieties. The label, the name, and the wine all mirror the fun and smiling winemaker Jimmy. You can tell he loves his life.
Peachy Canyon Winery / Lemur and Serval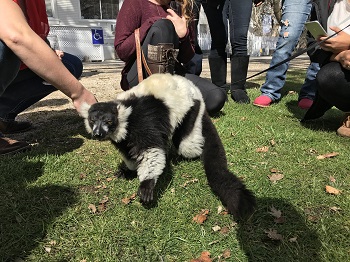 Little do we know that the huge chair that sits near the entrance to Peachy Canyon Winery will soon be the resting place for an exotic cat.
As we enter the tasting room, Samantha and Gina are deftly handling the three-deep crowd. They're pouring three wines, but first, it's out to the back lawn where Lisa Jackson, co-founder of Conservation Ambassadors, is adroitly overseeing the ever-curious and ever-in-motion Peeves the Lemur.
While his relatives are native to the Madagascar Rain Forest, Peeves is an animal ambassador through and through, and his professionalism shows.
"He been on TV shows across the country and gets his own airline seat," shares Lisa. Peeves works the crowd, rummaging through purses and pockets, holding sweetly onto children's fingers with his own human-like hands, inspecting a wine cork to see if it might be a snack. Now and then, Lisa picks him up and we can see his beautiful black and white face, expressive tail, and large eyes that take in his adoring fans.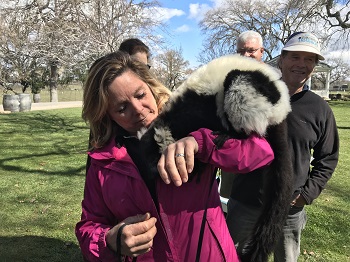 Lisa mentions that they get a lot of Lemurs that are confiscated illegal pets. In many cases, the Lemurs are handled badly. "The owners become so afraid of them because they don't know how to work them, that the animals are confined to their cages 24/7." Conservation Ambassadors is working to rehabilitate Lemurs like these.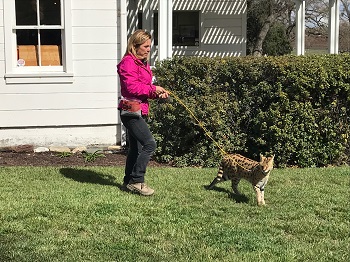 As we head in for a quick tasting, we hear Lisa say she'll be bringing out a Serval in a while. Hmm. What's a Serval?
Our tasting includes a 2016 Rose, 2014 Snow Zinfandel (tart strawberry and rhubarb aromas), and a 2014 DeVine Cabernet Sauvignon. All present a good range of Peachy Canyon's wines and approach.
We see Lisa head toward her truck with Peeves and know it must be time to meet a Serval. We can't imagine what he or she will be. She drops the tailgate and down jumps Maleeka.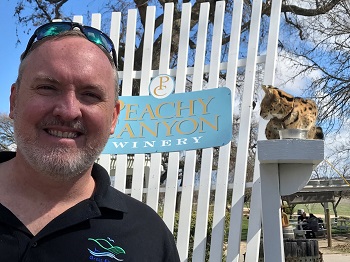 A spotted cat native to Africa, Maleeka the Serval resembles a small cheetah with tawny coat with black spots and stripes. Her long legs, we soon witness, are used for jumping to catch prey.
And jump she can. Lisa and a helper put a mouse on a high pole with a string. Maleeka looks, focuses, and jumps about 10 feet in the air. Amazing.
"She's going to be on James Cordon's show soon, so we're helping train her for her appearance," says Lisa.
Maleeka and Peeves aren't the only animals at Peachy Canyon the day of Wine Safari. Simone, the tasting-room Siamese, adopted the winery in October and has been there ever since.
Castoro Cellars / Skunk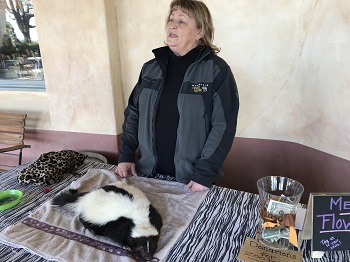 Castoro Cellars is just up the road from Peachy Canyon, so we make it our next stop.
Because Castoro Cellars has a beaver on its label (more about that in a minute), we think there might be a chance we'll meet a beaver as the animal ambassador.
We are mistaken.
There, lying peacefully on a blanket is Flower, the most beautiful skunk we've ever seen. He calmly regards his fans with soft brown eyes.
Dolores from Conservation Ambassadors shares fun skunk trivia. "They can spray 10-15 feet," she says, "but they'll stomp the ground first with their feet to warn you." They're also great managing the population of snails and other garden pests.
We long to stroke Flower's soft black and white coat, but unfortunately, there's a law that prohibits the public from touching skunks (and raccoons and opossums, too).
As we walk into the tasting room, Angela greets us and shares both the wines for the tasting and some fun facts about Castoro Cellars.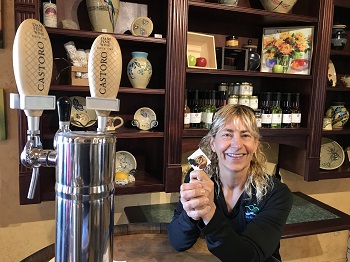 The beaver on the label? It's not because the winery was built next to a beaver pond or from some affinity for the Oregon State Beaver mascot.
It turns out that Beaver was the nickname given to the winery's owner from his older brothers when they were kids. And Castoro means beaver in Italian, so it seemed like a dam fine name for a winery. Makes sense. And it would make a lot of sense if the owner was Italian. But he's Danish. All this makes Castoro Cellars even more charming and fun.
We start with Albarino, then the iconic ZinFusion, before finishing with the Merlot and Pinot Noir.
Dark Star Cellars / African Pygmy Hedgehog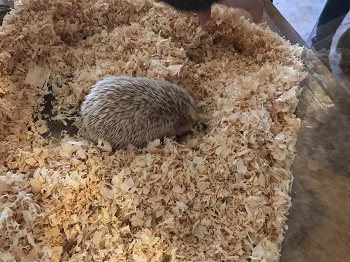 Our next stop is Dark Star Cellars, where there's a good crowd. Everyone on both sides of the tasting room bar seems to be having a good time.
Being a nocturnal animal, Sonic the African Pygmy Hedgehog is the perfect animal ambassador for Dark Star.
She's busy burrowing through the shavings inside the little ceramic bridge in her enclosure, but she's pretty patient with all of us wanting to touch her beautiful quills. And although she has quills, Vanessa with Conservation Ambassadors tells us that Sonic is related to shrews and moles, not porcupines.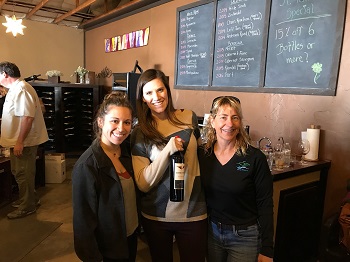 When Sonic's ready to call it a day, she lets us know by puffing up her quills. Vanessa says this means "talk to the hand" and come back later.
So we head to the tasting bar and say hello to Adrienn and Hannah, who are doing a great keeping track of a full house and what everyone needs.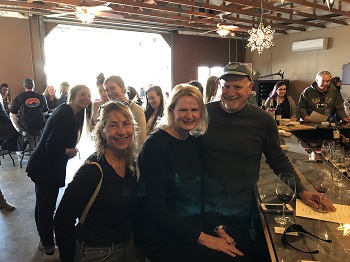 While tasting a few wines, we meet Mal and Mary Caraballo from the Bay Area. They come down to the Central Coast often to enjoy their house in Cambria. "We haven't missed a Wine Safari since they started seven years ago," says Mary. "It's all about the animals, and we love it."
The 2014 Anderson Road and 2014 Cabernet Sauvignon are standouts among a long list of good wines, and two we'll have to come back and try another time.
Midnight Cellars / Moluccan Cockatoo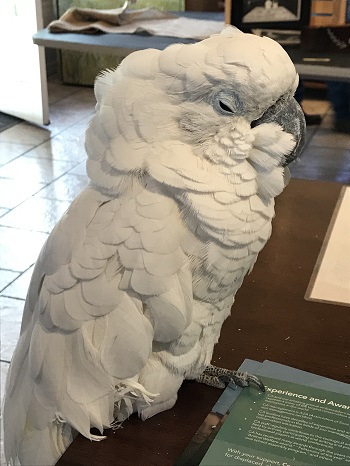 Staying with the night-time theme, we head to neighboring winery Midnight Cellars and say hi to Natalie in the tasting room.
Natalie says a big crowd just left, so we enjoy the moments of calm and meet Sydney the Moluccan Cockatoo. Her beautiful white feathers almost have an inner light.
Lynn with Conservation Ambassadors says that large birds like Sydney can live to be 60 years old, so they are very much a lifetime commitment.
Sydney is so mellow she's almost falling asleep, but now and then walks to the end of the table and back.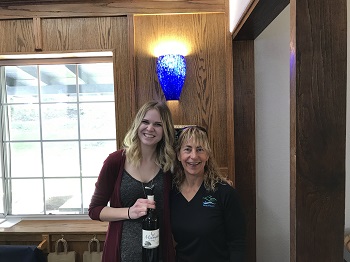 Natalie pours the first wine: 2016 Aurora, which is a Grenache Blanc and Viognier blend. Crisp, light, flavorful. We also try 2013 Sangiovese Starlight, 2014 Malbec Solstice, and 2013 Full Moon Red Syrah/Zinfandel blend.
Not only do the wines have cool astronomy-related names, but Midnight Cellars plans special events around full moons, solstices, and other happenings in the cosmos.
Grey Wolf Cellars / Bald Eagle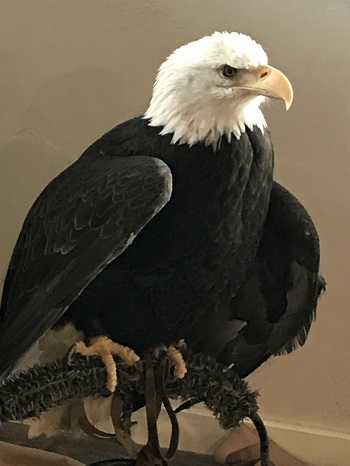 Our next stop is Grey Wolf Cellars/Barton Family Wines, where of course we assume we might meet a wolf.
Instead, majestic Seneca the Bald Eagle is holding court in the corner of the tasting room. According to her Conservation Ambassadors human, Seneca is 15 years old. She was injured and brought to Conservation Ambassadors when she was just a year old, so she's been around trusted people most of her life.
That's why she serenely surveys her audience with a gaze that says nothing fazes her.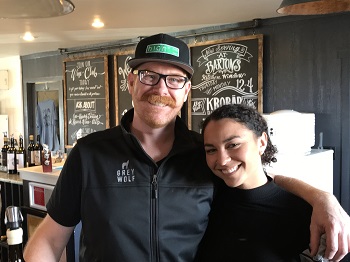 At the tasting room counter, Sierra and Jeff are pouring the 2015 Soulmate Rose, 2015 Tundra (Petite Syrah), and 2015 Predator (Syrah, Petite Syrah, and Monastrell, which we learn is a Spanish variety of Mourvedre).
Out back, a path leads past Barton's Kitchen Window, which serves great-sounding food by Jeffry's Catering (how about pulled pork with Zinfandel BBQ sauce? Yes, please!) and ends up at Krowbar Distillery. We'll definitely be back to try both of these.
Giving us a great image to remember her by, Seneca flaps her wings as her day at Grey Wolf Cellars comes to an end.
Tooth & Nail Winery / Python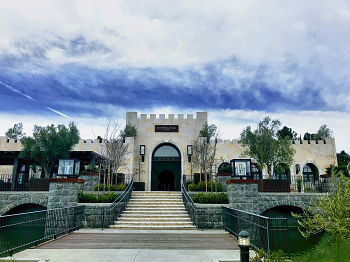 From the back porch of Grey Wolf we can see our next, and last, stop for the day: Tooth & Nail Winery.
This castle-cum-winery embraces the gothic feel of castles and ramps up the fun of it. From the artwork to the décor and dark archways, the space is intriguing to explore and definitely unlike most wineries.
Alas, we're a few minutes late and the animal ambassadors (Python and snakes) have left for the day.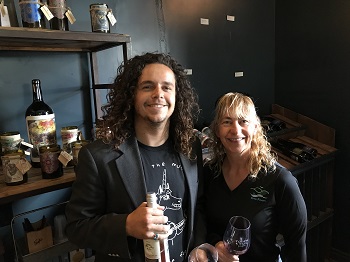 We console ourselves with a tasting anyway, and Hayden in the tasting room pours Albarino, Merlot, Syrah, and Petite Syrah from the winery's Rabble, Statis, and Amor Fati labels. Hayden and the entire tasting room team do an incredible job of taking care of the lively crowd, which ranges from a couple and her parents planning a wedding to large groups of jovial friends.
For more about Tooth & Nail, check out our recent visit to a fun wine-and-paint event.
Seven Down, Nine to Go
Whew, we've hit seven wineries in one day. Time to head home and rest up for tomorrow's Wine Safari.
SUNDAY
After a good breakfast, we head back to Paso Robles. Our goal today: to enjoy the experience and meet as many animals as we can, knowing we likely won't meet them all.
So many animals and wineries, so little time….
Sextant Wines / South African Pixie Frogs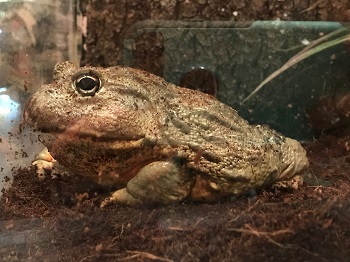 Our first stop on today's Wine Safari is full of surprises. Behind the big wooden doors at Sextant Wines lies a tasting room with a European feel. Sleek yet inviting. Spare yet warm.
As we walk in, we meet our animal ambassadors: Dewey Hopper and Jeremiah. From a list we saw at a winery yesterday, we know these are South African Pixie Frogs.
Pixie frogs? These boys are not pixie (i.e., small, petite, or diminutive) frogs. No, they are big, beefy, robust frogs. Can't help but wonder if they wished they could get a PR firm for a rebranding of their name.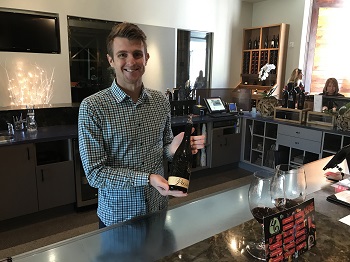 Dewey Hopper and Jeremiah are sitting quietly, so we head to the tasting room bar and meet Robert. With his ease and understanding of the wines, we assume he's been in the wine industry for years. Another surprise: this is his second day.
We start with the 2015 SLH Reserve Chardonnay, then try the 2015 SLH Pinot Noir and 2014 Wheelhouse Zinfandel. They're all good, and they remind us to try the Sextant Winery in Edna Valley sometime soon.
Hunt Cellars / Camel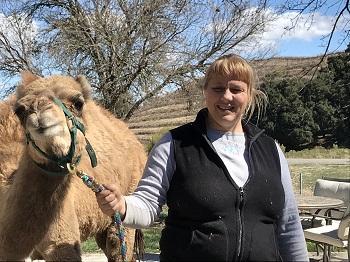 Our next stop is Hunt Cellars, where we meet Tulie the Camel and Annie from Conservation Ambassadors.
"Tulie is 1-1/2 years old, and she was an 'overflow' from a camel breeder in California," says Annie.
Annie is the camel trainer and has been with the organization for 10 years. Tulie is her own camel, and she oversees the care of the other camels as well.
Tulie seems to love the attention, and her furry long neck is so soft and her big brown eyes so sweet. She's also very gentle about taking carrots from people's hands… or lips.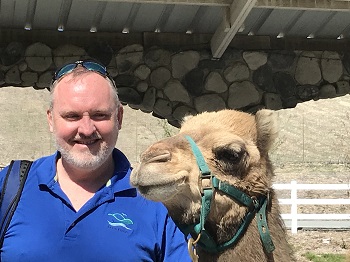 Asked about whether Tulie will trained to ride, Annie says of course. "And camels are super smart and easy to train. You show them something and they understand very quickly," says Annie.
Unfortunately, we did not have time to do a wine tasting at Hunt Cellars. Next year…!
Donati Family Vineyard / Raccoon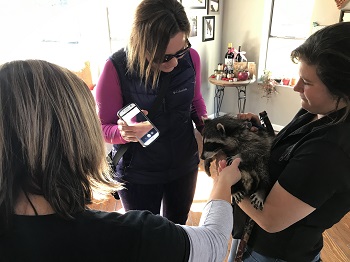 Melissa greets us when we walk into the Donati Family Vineyard tasting room. It's a bright, cheery room (and they sell some of the best wine accessories we've ever seen).
One of the animal ambassadors is hanging out with the crowd and like Peeves, he's continually in motion.
"This is Rocket," says Michaela with Conservation Ambassadors, as the young Raccoon explores every nook, cranny, table, couch, bowl, and chair in the place. "Rocket and his brother Fred are about 8 months old, and they came to us when their parents died in the wild."
After several trips around the winery, with Michaela patiently but actively following at the end of the leash, it's time for Rocket to take a break and Fred to come out to play.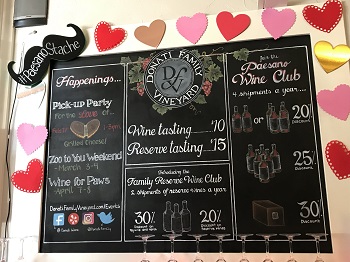 Fred is much more laid back than Rocket, who expresses his displeasure at being in the crate and out of the limelight by making lots of raccoon noises. He's quite the actor.
As Fred strolls around the space, we start our tasting. Melissa pours 2016 Pinot Grigio, 2013 Petite Verdot, and 2013 Ezio. "Our grapes are estate-grown at our Paicines Vineyard near Hollister," says Melissa.
And what is the story behind the Ezio label? "This is named after the Donati family's father," she says. "The grapes used for the wine may change year to year, but the winemaking approach stays constant. It's made from the best grapes from the best blocks in tribute to Ezio." The current vintage of Ezio is 100% Cabernet Sauvignon.
We bid farewell to Fred and Rocket (who's still talking in the crate) and head to our next destination.
Donatoni Wines / North American Porcupine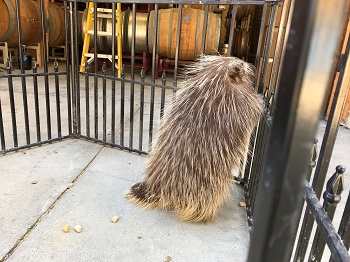 When we pull up to Donatoni Wines, we notice the sign with an airplane-shaped corkscrew.
Knowing there's a story behind that, we ask winemaker Hank. "That's not a corkscrew," he says, with a slight wink, and shares a bit about the decades-long careers he and his wife Sandi had with a major airline. "And then the company decided not to honor its retirement program."
Ah, now we understand what the sign means.
Outside the barrel room, we meet Priscilla the North American Porcupine and Megan with Conservation Ambassadors. Pricilla is adorable, and she knows how to work the crowd with awesome dance moves.
At one point, she tries to climb out of her enclosure, the better to mingle with her fans.
Unlike her relative Morocco the African Porcupine, who we met at Doce Robles yesterday, Priscilla's quills are barbed. "I can say that from experience," shares Megan, who's been with the organization two years. "You do get poked with a quill sometimes, but it's a myth that porcupines can shoot their quills."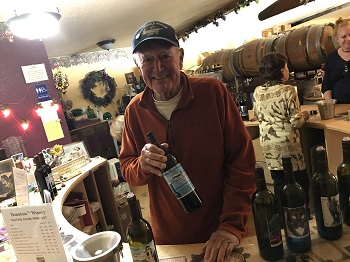 We head inside for the tasting, and where Hank—who celebrated his 50th crush last year— plus Sandi and Kristie pour 2015 Sangiovese, which has old-word characteristics, Plane Red blend, and Hank's Vertical Zinfandel, which blends four vintages from Richard Sauret Vineyards. Sauret was a renowned Paso Robles winegrower and dear friend of Hank and Sandi, who passed away in 2017.
The tasting room, with lots of airline and flying memorabilia, takes you back in time.
Shale Oak Winery / African Crowned Crane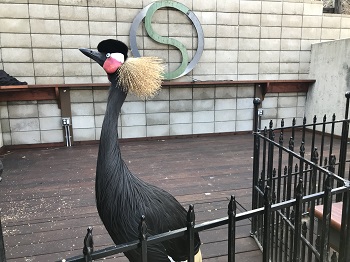 As we pull up to Shale Oak Winery, we're struck by the almost cathedral-like appearance of the tall lines of the structure and colored-glass panes. The beauty of the space inside the tasting room continues the first impression.
Opened in 2011, the Gold LEED Certified was designed to have sustainability built in to nearly every aspect, from sustainably farmed vineyards (one at the winery and another in Pleasant Valley) to photovoltaic panels and a design that incorporates daylighting.
Before we taste the wines, we head outside to the courtyard, where we meet Talulah the African Crowned Crane.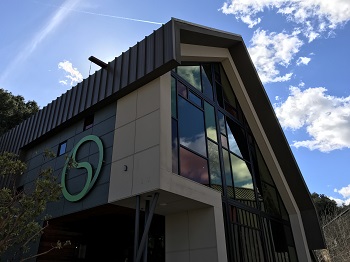 Under five years old, Talulah has been an animal ambassador for two years. She is a natural performer, and loves dancing to the music and with her Conservation Ambassadors humans.
Back inside the tasting room, we try the 2015 Albarino, 2014 Sui (Viognier and Grenache Blanc), 2012 Zinfandel, 2014 Grenache, 2012 Cabernet Broken Oak.
Four Lanterns Winery / Barn Owl and Screech Owls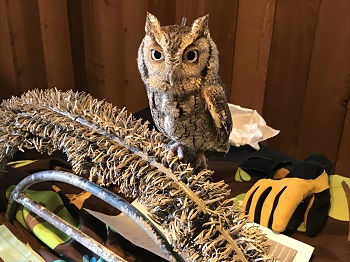 Our next stop is Four Lantern Winery, set in a beautifully restored barn on what used to be an apple farm.
Right inside are three animal ambassadors: two Screech Owls (Atlas and Axis) and a Barn Owl. Unfortunately, we did not get Mr. or Mrs. Barn Owl's name.
Like Seneca at Grey Wolf, they are regal and exude an energy of quiet confidence. And, they're all beautiful.
As we move to the adjacent tasting area, we learn from Erin that the name is a reference to the owners Jackie and Steve Gleason's four daughters—the lights of their life.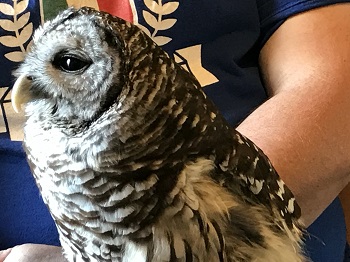 Erin and Cassidy, a mechanical engineering student at Cal Poly, take turns pouring wines, which are centered on Rhone and Bordeaux varietals. Cassidy mentions that the daughters also designed all the wine labels, most of which are lovely watercolor paintings or drawings.
Jackie mentions that they bought the property in 2013 and the majority of the grapes are estate grown. They do all their winemaking here, including bottling.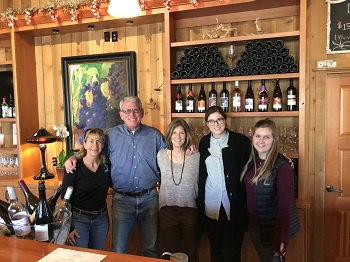 We start with the 2016 Syrah-based Sunset Rose, then try the 2016 Lamplight Viognier, and finish up with the 2014 Right Bank, a Bordeaux blend of Merlot, Cabernet Sauvignon, and Petite Verdot.
Treana Tasting Cellar / Alligator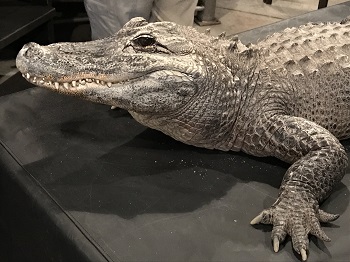 Our last stop of the day, and of the 2018 Wine Safari, is Treana Tasting Cellar.
The wood siding of the winery and tasting room is striking. Rich, deep color and texture, yet refined.
As we walk into the cool barrel room, we meet Paul, who's pouring today's wines. And then we meet Spike and Scott from Conservation Ambassadors.
Spike the Alligator is greeting visitors from atop a long table so we humans can more easily say hello. "Spike is 18 years old," says Scott, "and he's a true ambassador."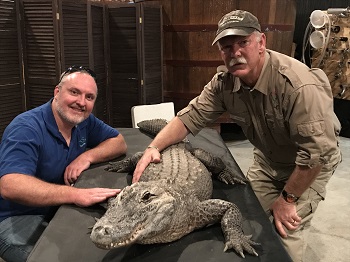 He really is. He lets us feel the coolness and texture of his skin, and he seems so patient. Scott encourages Andrew to take a picture with Spike. It's hard to tell who's smiling more.
And lest you think there's no affection inside that hard skin, we witness the charming connection Scott and Spike have. When it is time to get ready to go, Scott gently lifts Spike off the table and puts him on the cool floor. Then, Scott gives him a pat and starts loading up the table. Spike turns around and starts walking toward his friend. Beautiful.
It is a little hard to concentrate on the wine after meeting Spike.
Paul first pours the 2015 Treana Chardonnay, then the Treana Blanc. We tried next the 2014 Austin Hope (Syrah). Paul shares that estate-grown grapes are Grenache, Syrah, Mourvedre, and Roussanne. We also learned that Treana makes the Troublemaker and Liberty School wines, which include Pinot Noir, Merlot, and Cabernet Sauvignon.
A Wild, Wonderful Weekend
The sun is getting low as we finish our last winery visit of 2018 Wine Safari. All told, we made it to 14 of the 16 participating wineries, and I think we're all a bit surprised. The only two we unfortunately ran out of time to visit are Croad Vineyards and their Opossum animal ambassador, and AronHill Vineyards and their Armadillo animal ambassador.
The whole event was well done. All the wineries, even with big crowds, did a good job keeping things flowing and were friendly.
And the animals! What an amazing opportunity to meet these beautiful ambassadors and learn more about them.
We have a goal for 2019: meeting 16 animals in two days. Who's up for next year's adventure?
Thank You!

We want to thank all our new animal friends for your patience and goodwill being surrounded by silly humans for two days, Conservation Ambassadors for sharing parts of the world we likely will never see, Paso Robles 46 West Wineries who made for a great event, Mina for volunteering to be designated driver, and all the great animal-loving people we met over the weekend.

Truly this was celebrating the Great Flavors of the Central Coast.
For More Information
Conservation Ambassadors Zoo to You: www.zootoyou.org
Paso Robles 46 West Wineries Association: https://46west.wine
Participating Wineries (listed alphabetically)
AronHill Vineyards: https://www.aronhillvineyards.com
Castoro Cellars: https://www.castorocellars.com
Croad Vineyards: www.croadvineyards.com
Dark Star Cellars: https://www.darkstarcellars.com
Doce Robles Winery: www.docerobleswinery.com
Donati Family Vineyard: https://www.donatifamilyvineyard.com
Donatoni Winery: www.donatoniwineryandvineyards.net
Four Lanterns Winery: www.fourlanternswinery.com
Grey Wolf Cellars/Barton Family Wines: www.bartonfamilywines.com
Hunt Cellars: https://huntcellars.com
Midnight Cellars: www.midnightcellars.com
Peachy Canyon Winery: https://www.peachycanyon.com
Sextant Wines: https://sextantwines.com
Shale Oak Winery: www.shaleoakwinery.com
Tooth and Nail Winery: rabblewine.com
Treana Wines / Hope Family Wines: https://www.hopefamilywines.com/treana
If you liked this story, we think you'll like these related stories about Wine Safari, winery animals, and fun winery activities:
Wine Safari 2018: Blending Families, Animals, Fun in Paso Robles
Wine and Animals – 46 West Wine Safari, February 12, 2017
Quiz Time: Animal Magnetism (wonderful winery animals of the Central Coast)
Tooth & Nail Winery: Paint Bar Activity (46 West Wineries, Paso Robles)