This Sunday, June 3, enjoy the sun and cool coastal air while you help support high school scholarships. All this is part of the 25th anniversary of the Marianne Talley Memorial Fun Run at Talley Vineyards in Arroyo Grande.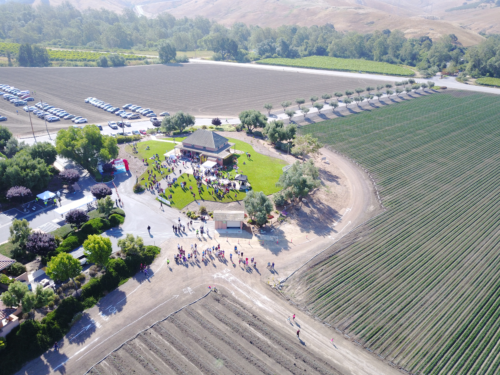 From the first event in 1993, race manager Marian Fiorentino has developed the race into an event that attracts plenty of serious runners in the 5K and 10K races. It's also an event for families and people of all ages and abilities to come out to enjoy running (or walking) through the vineyard's property or participating in the 1-mile Adult Walk.
One of the highlights of the morning is the 1-mile Youth Run for ages 13 years and under.
"It's my favorite part of the event," said Brian Talley, president of Talley Vineyards. "We have the Youth Run last, so there are lots of people cheering and supporting the kids as they cross the same finish gate as the adults. It's so fun to see their smiles and pride as they finish."
The Fun Run's Foundation
The Talley family created the Marianne Talley Foundation in memory of Marianne Talley, who earned her Bachelor's Degree in Exercise Science from University of Southern California and her Master's Degree in Wellness Management from Cal Poly San Luis Obispo. She also competed as a runner, swimmer, cyclist, and triathlete. Because the Talley family shares a love of fitness, athletics, and education, they wanted to create a way to remember Marianne in a way that would benefit others and the community through a scholarship program.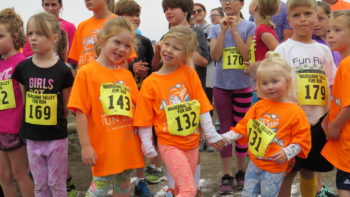 "The 25th anniversary of the Fun Run is significant to me for a couple of reasons," he said. "First, it reminds me that it's now been more than 25 years since my sister passed away and I still miss her."
He added, "It also reminds me of the profound impact the Marianne Talley Foundation has had in our local community: a contribution of more than $300,000 to support 55 graduates from Arroyo Grande High School in their pursuit of higher education."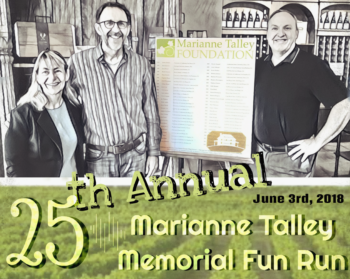 The Fun Run is the primary fundraiser for the Marianne Talley Scholarship Foundation, which awards three separate scholarships: The Marianne Talley and Oliver Talley Memorial Scholarships, which are awarded to student athletes, and the Don Talley Leadership Memorial scholarship, which is given to an academic student. All scholarship winners are nominated by the school's coaching, athletics, and administrative staff.
Sign Up and Event Details
On Sunday, head to the Talley Vineyards winery at 3031 Lopez Drive.
Registration is at 7:00 am. The 5K, 10K, and 1-Mile Adult Walk are at 8:00 am, and the 1-Mile Youth Run is at 9:15 am.
If you haven't already signed up, you can do so online by midnight May 30 at www.raceroster.com. After that, register at the pre-race packet pickup on Saturday from noon to 3:00 or sign up the morning of the race.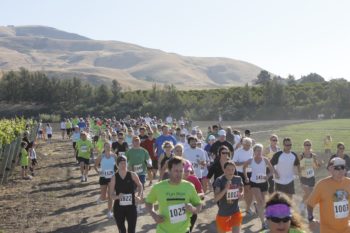 Here's a fun incentive. If you beat Brian Talley, who has been a competitive runner and recently finished the Bay to Breakers race in San Francisco, across the finish for the 5K, you'll receive an "I Beat the Vintner" t-shirt. If you come in close behind him, you may get an "I Almost Beat the Vintner" t-shirt. Others racers and walkers receive a commemorative t-shirt (while supplies last for late registrants).
"The Fun Run event is always special for me," said Talley. "It's a beautiful day, sharing time with friends and family and the community in the vineyard and cherishing memories."
We'll see you at the start!
More Information:
Talley Vineyards
www.talleyvineyards.com
Read more about Talley Vineyards and Talley Farms:
Winery Spotlight: Talley Vineyards
Photo Essay: Talley Vineyards Spring Fling — March 26, 2017
Talley Farms Fresh Harvest CSA: Local, Fresh Produce Made Easy