The craft hard cider producers on the Central Coast, with nearly a dozen in San Luis Obispo County, are out to change the perception that hard cider tastes like apple cider for adults.
They did that and more at the 3rd annual Central Coast Cider Festival in Atascadero, where cider producers and cider fans gathered for fun experiences designed to increase education and appreciation on both sides of the bottle.
The way we see it, the Central Coast is poised to take its place as an epicenter of hard cider creativity, craftsmanship, and innovation. And we couldn't be more excited.
Celebrating Cider Through Education
Neil Collins, whose Bristols Cider House in Atascadero was one of the original cider producers instrumental in starting the Central Coast cider culture, believes the Cider Festival is about education and sharing ideas.
"The event is more than just a big cider tasting," he said. "Many people who attend really appreciate the art that goes into making hard cider and they enjoy the opportunity to talk with producers and learn more about their approach. Plus, the cider producers love getting together and sharing notes, ideas, and inspiration with each other."
Pre-Event Events
The Cider Festival's grand tasting on Saturday May 12 was preceded by tap takeovers and pouring events.
At the Guest House Grill in Atascadero and Libertine Brewing Company in San Luis Obispo, cider makers shared several of their ciders with fans who wanted to get a sneak taste. It was great to taste a range of ciders and talk with the makers about their process and inspiration behind the ciders.
A cider pouring event at Grape Encounters Empourium in Atascadero was another opportunity to try new ciders.
The Cork Dorks (Liquid Lunch) radio show at The Krush 92.5 brought in several cider producers, including Gopher Glen Cider, Two Broads Ciderworks and Tin City, to discuss the current state of the craft cider industry and share ideas of where it's going.
Cider Seminar: Hopping on the Hops Bandwagon
Several producers in the collegial group of Central Coast cider makers presented the inaugural Cider Brunch Seminar held Saturday morning. The topic was hopped cider and exploring the ways this herb used in many beers is now crossing into the cider world.
Before the discussion started, attendees enjoyed cidermosas, a buffet breakfast, and conversation.
Neil Collins, owner of Paso Robles-based orchard company Trees of Antiquity, kicked off the panel discussion. He has grown cider apple trees and other varieties since he started his business in 2000, and he's seen firsthand how the cider industry continues to grow.
"In the early years, I'd grow 12 cider apple trees and didn't sell one of them," he said. "Now, I sell hundreds of cider apple trees and other varieties every year."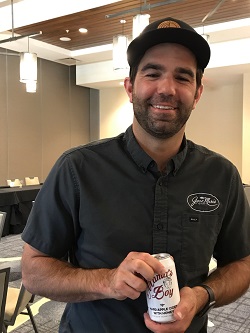 Next, the panel of cider producers—Bristols Cider, Gopher Glen Cider, Jean Marie Cidery, and Tin City—took turns discussing their evolving ideas of hops –the why, when, how of including hops during the cider-making process, and  the results of their efforts so far. We followed along through the tasting of six ciders as each producer shared more about the hops they chose, their flavor characteristics, how hops affects the fermentation process, and other aspects of using hops in hard ciders.
Several audience members asked questions of panel members.
Here's what we tasted:
Bristols Cider: Rackham, Barti Ddu
Gopher Glen Cider: Jack Rabbit
Jean Marie Cidery: Bee Hoppy
Tin City Cider: Poly Dolly, Original Dry Hopped
After the seminar, Bristols Cider founder Neil Collins made this comment. "The industry is still very much in its infancy. You can tell we are all interested in hearing what the other producers are doing and sharing what we've been working on."
"We're all finding what works for the region, the country, and for our own individual companies," he added.
The Main Event
Held again at the scenic Pavilion on the Lake in Atascadero, the Central Coast Cider Festival included tastings from more than a dozen cider producers, a traditional roast pig dinner from Chef Jeffery Scott with Vineyard Events and great music from the Turkey Buzzards.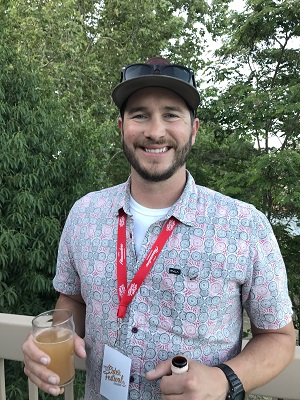 Dane Jacobs, with Reef Points Hard Cider, believes the event attendees are unique. "I find that the people who attend are generally here to appreciate the ciders," he said. "They care about the product, they want to meet the cider makers and learn more about them as individuals. They ask questions, they're inquisitive. It's very refreshing."
Diversity and Expression
But the event isn't just for attendees to sample hard cider—it's also a gathering place for cider producers to share their results and explore what's possible.
"Here in the US, we can play with cider more," said Collins, who came to the Central Coast from Bristol, England.
"In England, you don't really see hopped ciders or infused ciders," he said. "You see a whole lot of really good straight ciders—which I like a lot. But here in the US we can cast around and try all different things. Maybe we don't get the greatest of cider apples, so we can add hops or do something to add intrigue. There are no preconceived ideas. It's wide open."
All evening, the energy in the room was upbeat, as attendees made their way from booth to booth, sampling the wide variety of ciders, eating dinner, and talking on the patio overlooking the lake.
While taking a short break during the event, Collins shared his thoughts about the Cider Festival's intention.
"Events like this help us share more about what cider is—and that it's way more than the commercially available sweet ciders," said Collins. "To have the chance in one room to get 400 or 500 people to come together and be able to talk to the producers, to taste several ciders from each producer, to get an understanding of the diversity out there and understand that cider isn't just one thing with one taste—it's an amazing opportunity."
Cider Festival 2018 and Beyond
As the evening wrapped up, Raven Lukehart-Smith with Gopher Glen Cider summed up her experience of the event.
"Every producer here is doing amazing things," she said. "We're doing things that are new to the cider industry—not just new to the Central Coast. I really encourage people to get out and try local ciders. With so many styles and favors, you're going to find a cider that you really love."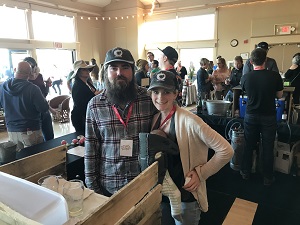 Over the past two years, we've enjoyed seeing cider producers continue to explore the range of what's possible and explore new ideas. As cider fans, we couldn't ask for more and we all benefit from their passion, excitement, and enthusiasm in this industry that is anything but status quo.
The Flavor Team thanks the organizers and sponsors of the Central Coast Cider Festival, all the producers for sharing the fruits of your labors, Chef Jeffery Scott, the Turkey Buzzards, and fellow cider lovers for a great experience.
We'll see you all next year!
2018 Participating Cider Producers
101 Cider House
Anna's Cider
Bristols Cider House
Gopher Glen Cider
Jean Marie Cidery
Kelsey See Canyon Vineyards
Krazy Farm Cider
Mission Trail Cider Company
Reef Points Hard Cider
Santa Cruz Cider Company
See Canyon Cider Company
Tin City Cider
Totally Stoked
Two Broads Ciderworks
Thirsty for more hard cider? Here are a few more articles to explore:
2nd Annual Central Coast Cider Festival 2017 [16 Local Cider Crafters]
From Apples to Artistry: The Bristols Cider House Way
Bristols Cider House: The Art of Hard Cider
Branch to Bottle: Gopher Glen's Hard Cider Journey
Some Ciders and Cheeses Meet in a Pub, and Here's What Happened [Bristols Cider House and Fromagerie Sophie Pairing Event]
Hard Core Cider Tour 2016 Comes to SLO County
Hard Core Cider Tour: Experience the Sparkle (2017)